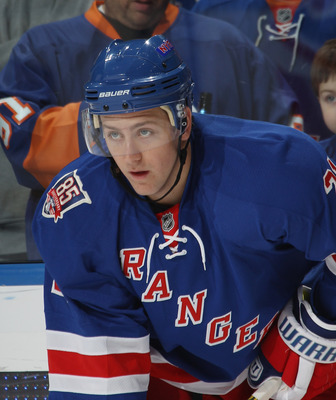 Bruce Bennett/Getty Images
Tonight when he takes the ice for the first time in seven games he will do it starting on a line other than the fourth and away from the likes of Derek Boogaard. Stepan was relegated down the lineup because his play dramatically slipped from early in the year not only in terms of production but in terms of impact during his shifts. In other words, he started to look like a rookie after playing like anything but one throughout the preseason and early regular year.
The other night in the third period he played probably his best period of hockey in the last three weeks as he started to play his game again. When Stepan is right he will play a feisty game that doesn't shy away from contact, uses his vision to find his teammates, but also doesn't hesitate when a shot is there. Against New Jersey two games ago there were two clear opportunities for Stepan to shoot, but instead he tried to force passes and killed scoring chances as a result. In the third period Sunday against St. Louis that was not the case as early in the period he sent Frolov up with a beautiful chance in front of the net only for him to be denied by Conklin. As the period progressed so did Stepan's confidence and he started to fire the puck in the direction of the net again.
Throughout the process Stepan has been honest with the media when he was feeling like a rookie and now he told
Jesse Spector
:
"I think there were two games, back-to-back games, where I started to slip," Stepan told the Daily News. "I found it playing the way that I need to play, and Torts has done a really good job being part of the process and putting me out in certain situations. I understand that it's going to be a process. I get that. So I'm not looking to play a ton of minutes each night. The way he's handled it has been really good. I kind of did the same thing at Wisconsin - started as a freshman, and just kind of added on. He's done a good job with it, and you can feel things turning. You can see it in my game. It's protecting the puck more, making smarter plays. It's coming, it's good. And I'm starting to grasp it a little bit.
"My biggest thing right now is just to compete and play hard, and that's all they really ask of me is to compete and play hard and be smart about it. I'm gonna start chipping in here soon. I'll get one to bounce off my head or something. It's coming. I'm glad I'm starting to grasp it, because it's making my life easier, that's for sure. … You just need to get one to bounce off your shin pad or something, and then when it rains, it pours."
The quotes are part of what I enjoy about following Stepan as there is a refreshing honesty to them you don't see enough of from professional athletes to not sugarcoat the struggles while admitting to the learning curve. If his play in the third period the other night is an indication the swing is on the way back up and he is being rewarded by the coaches tonight by being moved back up with Frolov and Fedotenko in what very well could be a critical game for Stepan right now.
The reason I say that tonight could be critical is right now we have a situation where it is likely in the next two games that the highest skilled offensive player this team has will be back from his injury and if Stepan plays well he probably gets a chance to play with Gaborik as he did in the preseason but not the regular season. If he does not play well then the first shot probably goes to the former incumbent in the Gaborik center slot, Eric Christensen. If EC is the guy who wins that battle over Stepan to play with Gaborik it is likely that Stepan will go back to the 4th line because of how well Boyle has played and even more that when Prospal and Drury come back Stepan would be sent to Hartford to continue his development there.
Other Stepan Related Articles: