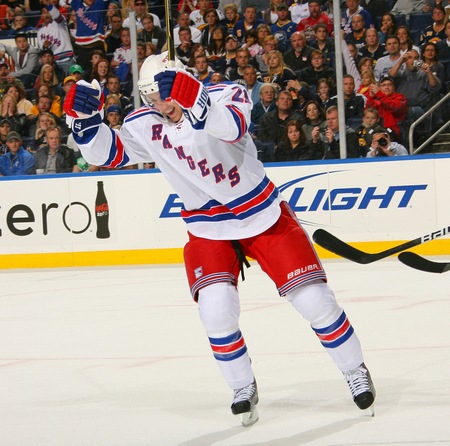 Photo by Bill Wippert/NHLI via Getty Images
The fact that Derek Stepan would experience some growing pains at the NHL level is no surprise for me and it is true of nearly all players as they come into the league.
That he has done so to a point where Tortorella even without Drury in the lineup has moved Stepan all the way to the 4
th
line and is playing him 10:39, 12:14 and 9:44 the last 3 games does surprise me.
To me from the middle of last week the move is that when Drury comes back if the level of play for Derek doesn't pick up is sending him down to Hartford.
Heck it is a move that I would suggest if he is going to play 10 minutes a night with at least a decent portion of it on a line with Derek Boogaard and Grachev who isn't ready for the NHL right now.
The problem for me as I laid out in the comments I made on Hartford and what happens to prospects there is that I am not sure sending him to Hartford to play upwards of 20 minutes a night is a good thing for him solely because of the staff down there.
For his game I think it could be good as well as what seems like a dip in confidence.
It would also have the potential to get some other guys down there going as opposed to playing very limited minutes here and losing more confidence with less playing time.
If he was getting 12-15 minutes in a somewhat reduced role I would without a doubt say staying here and doing that right now would be a way to keep him here, work through some of the struggles and get some confidence back while gaining experience.
The flip side of course is that if it was determined none of that was going to happened and at least for the immediate future he was going to play 10 min a night on the fourth line for the bulk of it normally I would say send him down.
The problem is I cannot bring myself to want to put him and his development in the hands of the staff there.
That is not to say that Torts and crew are great and bringing young players along, but they cross over the low bar that is the competition for this particular comparison.
I have been thinking about the Stepan to Hartford possibility for the past week and the combination of Stepan going to the fourth line with Brian Burke's comments on Kadri really brought up the conundrum in my mind.
In case you haven't seen it or aren't aware with the Leafs looking for more offense the fans in Toronto have been clamoring for Burke to call up Nazem Kadri to help.
Earlier tonight (Sunday) I caught Pierre LeBrun's weekend wrap
article
in which the Kadri discussion was brought up and Burke told him they refuse to rush Kadri saying, "No, we will not rush Kadri," Burke said. "He's still very much on a learning curve. Look up how many games [Ryan] Getzlaf and [Corey] Perry played in the AHL [when Burke was GM in Anaheim]. Bobby Ryan spent parts of two seasons in the AHL. So I don't rush guys. I want to get Kadri ready to play 10 years in the NHL, not 10 games."
For the record Getzlaf had 17, Perry had 19, Ryan had 70 so the first two weren't exactly there long though they did have 33 and 34 points in those game totals.
The reason the quote and premise gets to me is either the Rangers don't do that with guys like Del Zotto, Stepan because they just want to rush them to fill needs or they don't trust their AHL system to be able to do that with guys like them and Grachev considering Grachev has gone from being developed as a scorer to brought up to the NHL as a fourth liner.
If the reason that Stepan is still here and Grachev is here at all right now is because you do not believe your AHL coaching staff can develop them then you need to eliminate your staff and that would help make Stepan going to Hartford a much more viable option than I can perceive it to be in helping him long term.