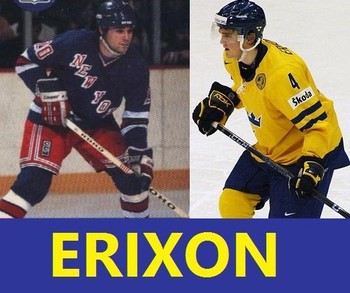 The New York Rangers have acquired and signed defenseman Tim Erixon, son of former Rangers forward Jan Erixon, from the Calgary Flames. Erixon, 20, was the 2009 first round selection of the Flames (23rd overall), but was not going to sign with Calgary prior to the 5 pm deadline today and would re-enter the draft. There is speculation that had Erixon re-entered the draft he could have gone as high as the top-10 this year. With Calgary only going to receive the 54th pick in the 2011 draft, the Flames moved Erixon along with a fifth round pick before the deadline to the Rangers for forward Roman Horak and both 2011 second round picks. The initial reaction is that the price is steep considering the situation Calgary was in having to move him, but considering the talent they are acquiring it is worth it.
In Erixon the Rangers are getting a highly skilled two-way defender who has played the last three seasons in the Swedish Elite League. He is known for his hockey IQ, being solid in both ends of the ice and his ability to chip in on the offensive side. He is projected to be a top-four defender because of how solid he is in all aspects of the game and has experience quarterbacking the power play. This past season he had five goals and 19 assists while playing nearly 20 minutes a night in his 48 games. His 24 points were enough to rank him an impressive second in the league among defenders, trailing only David Runblad.
Erixon is ready to come over to North America this year and will definitely be able to challenge for a roster spot during the 2011-12 season. If he does not make the club out of camp, then he could follow a Ryan McDonagh type timeline where he spends half the year in the AHL and comes up to the NHL level around midseason.
While defense is certainly not a pressing need for the Rangers, this is a brilliant move by GM Glen Sather to take advantage of the situation and acquire a first round talent at this price. While Calgary is has a very weak prospect pool right now, to acquire the number one prospect of any team is a good thing. Erixon gives the Rangers yet another young defender in the arsenal and creates tremendous flexibility for the organization in the coming years when it comes to moving some of the surplus defensive players/prospects for more help in the forward core.