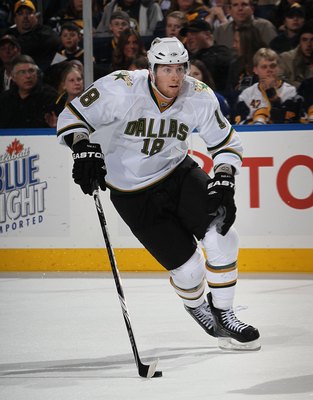 With just one week to go before the NHL trade deadline rumors are only going to intensify, some that will involve the New York Rangers and many that will not. This morning there was one that does not directly involve New York that caught my eye. Chatter has it that James Neal might be available via trade from the Dallas Stars. If the Rangers are going to make a move, this is the kind of move they should be making. For whatever reason this is also the kind of player the Rangers are rarely connected to in the trade market rumors, rather they are always connected to aging or over the hill veterans.
Neal, 23, would fill a need the team has had for a long time in the role of a true power forward that can score upwards of 30 goals in a season. Last season in 78 games Neal scored 28 goals and had 27 assists. This season he has 21 goals and 18 assists in 59 games which puts him on pace for similar numbers. He has one year remaining on his contract at a cap hit of 2.875 million and will be a restricted free agent.
The rumor involving Neal this morning per Darren Dreger in his
Dreger Report
:
It's believed the Pens are willing to move defenceman Alex Goligoski for the right forward, and a trade involving Stars winger James Neal has been discussed.
The deal makes sense for both sides as Pittsburgh obviously needs offensive help with their injuries and their depth on the blueline makes Goligoski more expendable to acquire a top end power forward like Neal. On the Dallas side Goligoski is seen as a very capable offensive defender, but he does have defensive holes in his game.
If Neal truly is available it is a move that Glen Sather has to kick the tires on and while we do not have a player currently at Goligoski's level, Michael Del Zotto is the one guy who has that kind of upside to intrigue the Stars with the same defensive warts. I have repeatedly said that I am opposed to moving Del Zotto despite his struggles this season, but this is the kind of talent you consider moving him for. Since Del Zotto is below where Goligoski is you would definitely have to add more in the way of picks/prospects whether it be another defensive prospect like Tomas Kundratek/Pavel Valentenko or a forward prospect like Evgeny Grachev. Who knows if the Stars would even consider that to be enough. Parting with young players is one of the hardest things to do for those that follow them closely, but when doing you have the possibility to do it for an established young player who has proven he can perform at this level sometimes you have to pull the trigger.
It is likely that the Stars would push for Ryan McDonagh to be included in the deal instead of Del Zotto, which I would not do at this point. Neal is a huge upgrade for the team, but the loss of McDonagh would be considerable right now as he has been the Rangers best defender recently and only shows signs of getting better.
In the end the Stars and Rangers likely wont come together on a deal for Neal, but it is certainly one that Sather should be calling about.