Chris McGrath/Getty Images
Following last night's game in which both Brandon Prust (foot) and Dan Girardi (rib) were added to the walking wounded, the New York Rangers decided to recall Evgeny Grachev and Michael Del Zotto. Both Prust and Girardi were listed as day-to-day, so the possibility exists that either or both might be unavailable for tomorrow's game against the Capitals. There is no denying that the Rangers are decimated by injuries so the options as to which players to call up are somewhat limited. It becomes further limited when they consider those who are free to move between the AHL and NHL without the need for waivers. All of that being taken into account I still believe both of these moves are the wrong moves for the long-term development of these players and accordingly the organization.
Evgeny Grachev is a tremendously skilled forward who has the potential to be a prolific scorer during his career. What we have seen though is that potential force the Rangers to rush him to the professional ranks and likely slow his overall development. Last season he struggled with the adjustment and only managed 12 goals and 16 assists in 80 games.
This season he struggled for three months which included a six game stretch in which he was up with the Rangers and showed he clearly was not ready to be there. This month he has been phenomenal with 11 points in 10 games including eight goals and three assists. To go further he had a hat-trick last night and six goals in his last three games. There is no doubt the young man is on fire, but while some might see that as a reason he deserves a chance to come up, instead I see it as more reason to leave him right where he is.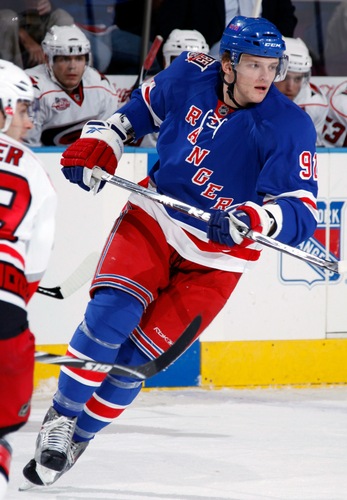 Scott Levy/NHLI via Getty Images
After two years in the AHL he has finally gotten the message and they have found ways of using him that allow him to stay involved mentally in the game throughout. His move to being used on the penalty kill has been a huge factor in that progression. Along with that, having many of the primary scorers from the Whale up in New York he has taken on a larger role within the Connecticut team giving him more offensive chances, which have led to this offensive explosion. Right now he is playing on the penalty kill, the power play and big minutes at even strength. The best thing for his overall development is to stay down there and be the man for some more time and engrain everything that is going on right now for better habits and increased confidence.
Instead this move rushes him once again in attempt to solve a deficiency on the NHL club in their lack of scoring right now and risks undoing some of the progress he has made of late. This would be especially true if he got ice time equivalent to what many of the Whale players have seen in their first games of around 8 minutes. My assumption is if Prust cannot go, then Grachev would like play on the third line with Boyle and Kolarik, which would make the ice time part of it better, but does not solve the overall mistake of the move. If Prust does go, which I would not discount at all, then Grachev might be on the fourth line, which makes the move a disaster. The thing that scares me the most is actually that he would do something good, like score a goal, and it would give the NHL management the idea to keep him up instead of allowing for his development to continue in Hartford. If that doesn't happen he is likely here for one or two games and then goes back down.
Where Michael Del Zotto is concerned, on one level the move is more understandable than Grachev, but on the other they have to know better than this. What was wrong with Michael Del Zotto that they had to send him down to the AHL to fix him, has not been fixed and cannot be fixed in eight games. Yes, Del Zotto has shown some more of his natural offensive skill with seven assists in those contests, more rushing of the puck than he was doing, but there are still the lapses mentally that caused his demotion.
This feels eerily similar to what went on with Matt Gilroy last year where they sent him down and called him back after just five games and thought he was cured. What came back was a scared out of his mind hockey player with no confidence that was eventually benched for Anders Eriksson down the stretch.
With Del Zotto you are bringing back a young player in the best case to play a couple of games as a third pair defender while Dan Girardi gets healthy and then they likely send him back down to the minors. In the worst case you called him up as Girardi insurance and Girardi can play on Monday, doubtful, and Del Zotto has now been brought back to sit and watch as a healthy scratch. The buzz word for Del Zotto at least out of his mouth in all the interviews has been confidence. How does either of these scenarios help his confidence? If you tell him straight out it is a temporary thing and he is going back to Hartford when Girardi is able to go, or he is just insurance in case Dan cannot play you are telling him he is not good enough to be on your NHL roster. While accurate it does not help confidence and given the way he apparently reacted when he was told of his initial demotion I would not expect that to go over too well.
I would rather they leave him down there and get him to where he is actually right on and off the ice to be able to come back here and play instead of taking a young player and for lack of a better term "jerking" him around by going up and down.
Yes, that leaves the obvious question of if not these two guys then what moves would I make?
In terms of the forward spot and the insurance for Prust I would just have kept Weise here. I have not been all that impressed with what Weise has done, but knowing the warrior Prust is I would expect him to play on Monday and then you have called up Grachev for either a fourth line roll or pushed Kolarik down and scratched someone else. There are literally only two games left before the break and the assumption is that Callahan is back when they return on February 1. Even if Prust was out these two games, with the negative x-rays it would be shocking if he was not also ready at that point.
On defense, I do not expect Girardi to play on Monday and Del Zotto is the most experienced guy they would call up to get the call, but why not take a guy like Kundratek instead and give him one or two games just to see him. Tomas has been arguably the most consistent of the young defensive prospects throughout the season and would not have the same potential confidence backlash that Del Zotto does from the move. Obviously another brand new defender is less than ideal, but I would consider the move for just a couple games assuming Girardi cannot go.
Do you think calling them up was the right move? Was one right and the other wrong? What would you do?