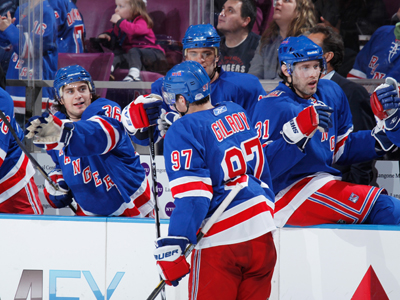 Steve Levy/Getty Images
Matt Gilroy, coming off his first career two goal game and coach John Tortorella proclaiming he is in the top six defense right now, for the first time in a long time seems to at least temporarily be off the scratch list. As I discussed yesterday even before the big offensive game last night Gilroy had done everything the coaching staff had asked of him not only in improving his own game but in having the defense join the rush more. That kind of a philosophy plays right into Gilroy's natural instinct as an offensive minded defenseman and with the level of confidence he is playing with right now he is letting all the tricks out of the bag. Games like last night where exactly what many envisioned when Matt Gilroy was signed in the summer of '09 following his Hobey Baker winning senior season in that you have a huge threat from the back end to add offense to your club with his shot, his speed, his vision and his ability to rush the puck.
Gilroy displayed his extremely high confidence level last night in the utter lack of hesitation to take the shot, something that has not been the case for him in the past. Evidence of what happens was clear for neither of the goals were great shots, but to score you must get shots headed at the net and see what happens. Even before the shot on the second goal the confidence exuded in his decision to rush the puck through the neutral zone that eventually led to the goal. While being rewarded for his stellar play on the power play Gilroy pulled out the toe-drag to go around a defender and create space and all of these things are things he could not do at the end of last year or even early on this year when his confidence was shot. For the moment he has certainly earned his spot in many ways by doing everything that thus far this year Michael Del Zotto has failed to do. In the zero sum scenario that is an active roster if Gilroy is moving up into the lineup then someone else will have to move down out of it. So who loses their spot so Gilroy can take the one he has earned? Immediately I will remove Staal, Girardi and Michael Sauer from the discussion as I think all three have outplayed the other four this season.
I presume that a lot of people will come up with two candidates immediately even if they are for very different reasons. One candidate for some will be Michael Del Zotto who was sitting for the second straight game and his second healthy scratch of the season. There is a frustration with the play of the 20 year old that has manifested itself in an irrationally high desire to trade away the immensely talented young defender. I was as critical as anyone early in the year for his defensive lapses, which at the time was met by a chorus of talk about how young he is and how his offense more than makes up for the defensive shortcomings. Personally I find it ironic and hilarious that now that his defense overall has been better, but his offense has gone in the tank the chorus is now calling for his head and I am left to defend him. Trading him now would be a mistake because it is unlikely you would get equivalent talent back for him given the depressed nature of his trade value.
I do not think that leaving Del Zotto in the press box repeatedly is the answer right now either and the team should look no further than Matt Gilroy last season to show that. What you risk in continually leaving him out of the lineup is taking an exercise designed to have him see the game from a different perspective and turning it into an experience that erodes his confidence level and only exacerbates the problems he is already having. I would put Del Zotto back in the lineup on Wednesday and allow him to work through it on the ice just as Gilroy has and he saw last night exactly the way he himslef has to play.
The other candidate I could see immediately coming to mind for many would be Michal Rozsival because of the long term disgust for him and his contract. In fact I can already imagine the suggestions of trading Rozi coming back in full force seeing as how we have six other defenders who are all younger, cheaper and better than he is. I will not argue Rozsival is playing very well right now as he has not played to nearly the same level since returning from his injury but I do not see him being benched or traded if for no other reason than the lack of experience that would exist on the blue line.
For me the guy that comes out is Steve Eminger. Eminger struggled early, but then really picked up his game and was playing solid hockey, particularly in the absence of Rozsival, but his game has slipped since Rozi came back and even more so since he injured himself against Ottawa and had to miss the Columbus game. Since returning from the injury Emmy looks more tentative, slower, and playing with less "jam." The main advantage Eminger had earlier in the year with all the right handed defenders in the lineup was that of Gilroy, Sauer and himself, he was the best at playing the left side. Now that Gilroy seems to have adjusted to playing his off side that advantage has ceased to exist and I think so should his lock on a spot on defense.
In terms of pairings there are a number of different combinations that could be used but if I had my way I would put Marc Staal with Michael Sauer, Matt Gilroy with Dan Girardi and let Del Zotto and Rozsival be the third pair. If they do not want to split Staal and Girardi who for whatever reason seem to play well together against the best offensive players but struggle together against weaker offenses then I would put Del Zotto with Sauer to free up Del Zotto to think more offensively and let Gilroy use his speed to cover up for Rozi.
It will be interesting to see how John Tortorella handles the new dilemma that Matt Gilroy has created with his excellent play of late, but as Torts said himself for now at least Gilroy has earned his spot in the top six.
Who would you bench to keep Gilroy in the lineup?