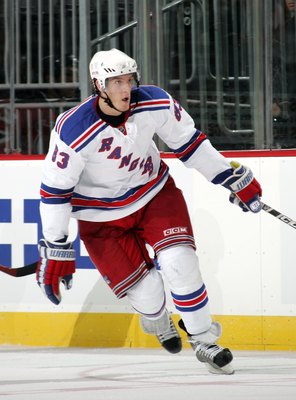 In a move that I expected to be the first the Rangers made, but did not expect after the comments by coach John Tortorella the New York Rangers have recalled Dale Weise from the Connecticut Whale for tomorrow's game against the Philadelphia Flyers. Weise, 22, has 6 goals and 5 assists in 12 games this season and should be a great fit for a third or fourth line role.
From the
Rangers twitter feed
Torts on Weise: "We're looking for some jam on that 4th line...I like him & thought he had good camp...in that role, it's an easier call up"
A game against the Flyers is the type of game that is perfect for Weise who is talented, but also has a feisty side to his game. Look for him to be on the fourth line with Todd White going back to the press box. Another aspect of the reason for making the move after saying there was no one in Connecticut that was ready is because Brandon Prust's shoulder is still barking and maybe this helps Prust avoid having to drop the gloves since he is really the only fighter in the lineup. Weise is not a great fighter, but not afraid to drop them when the moment arises, especially to protect a teammate.